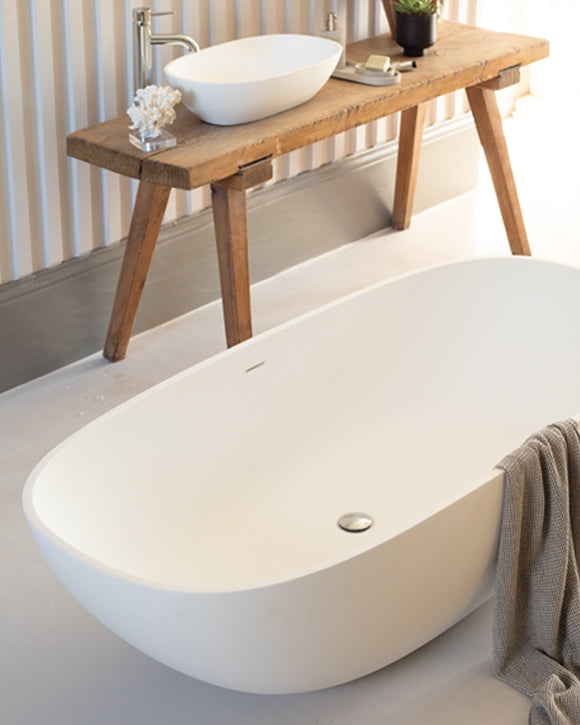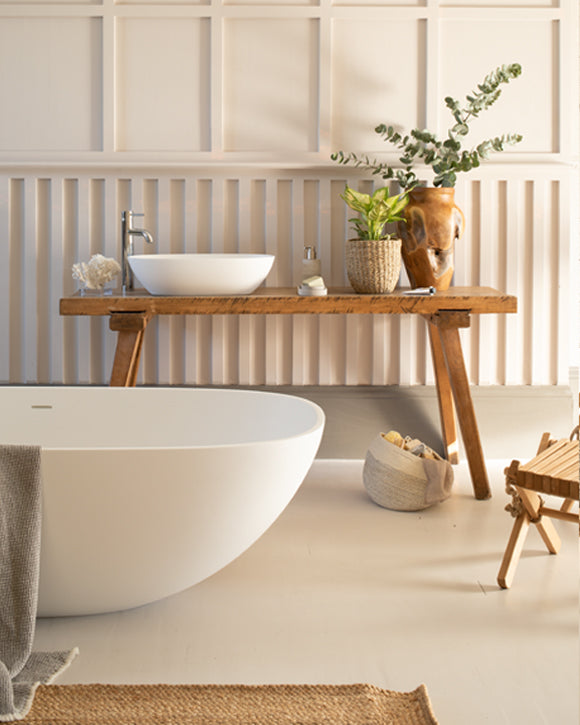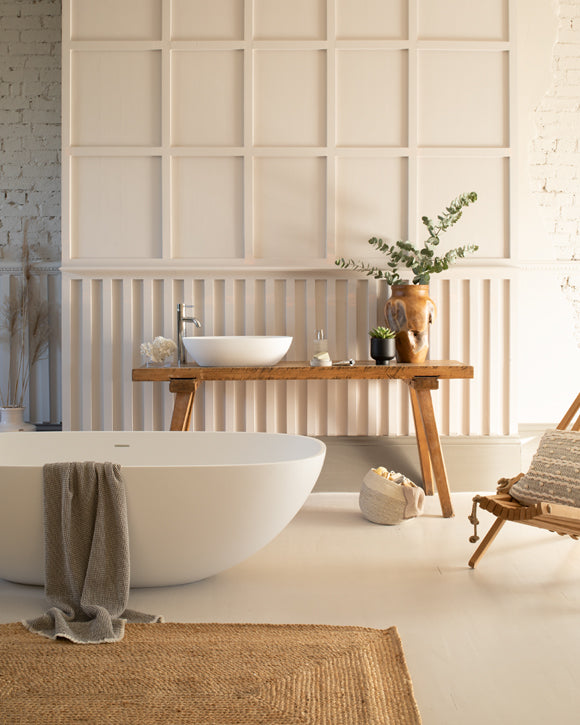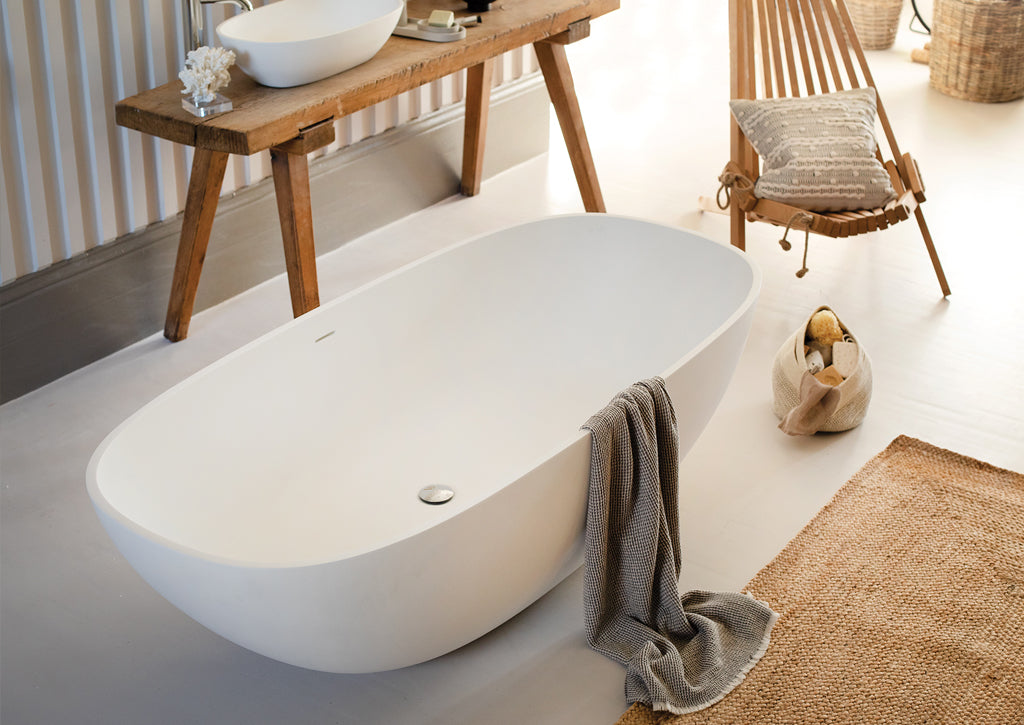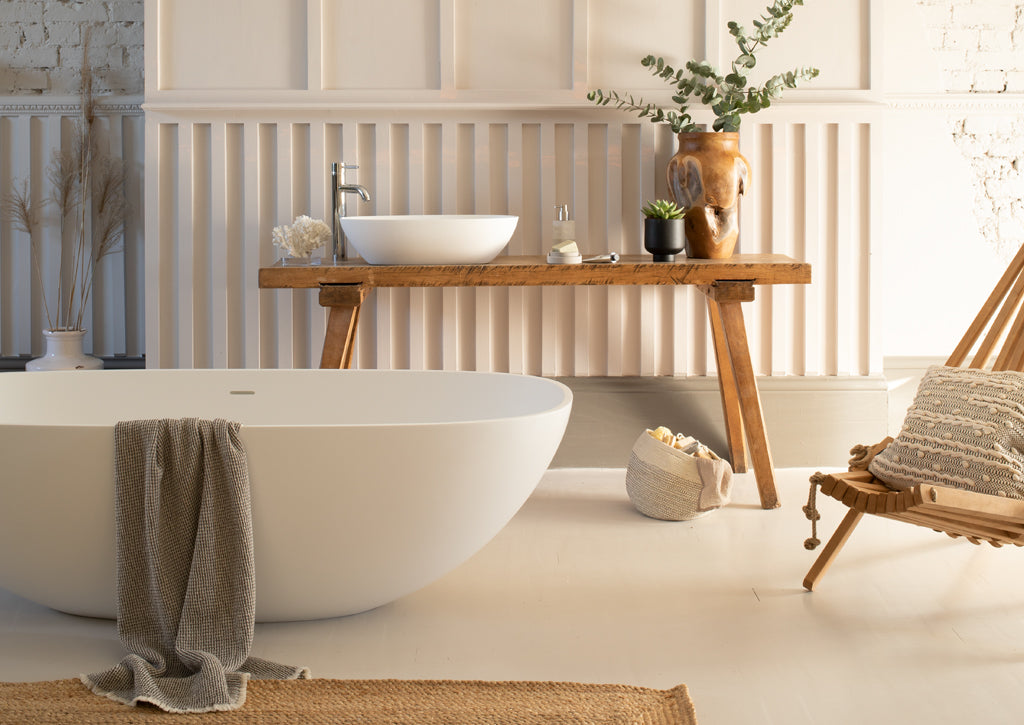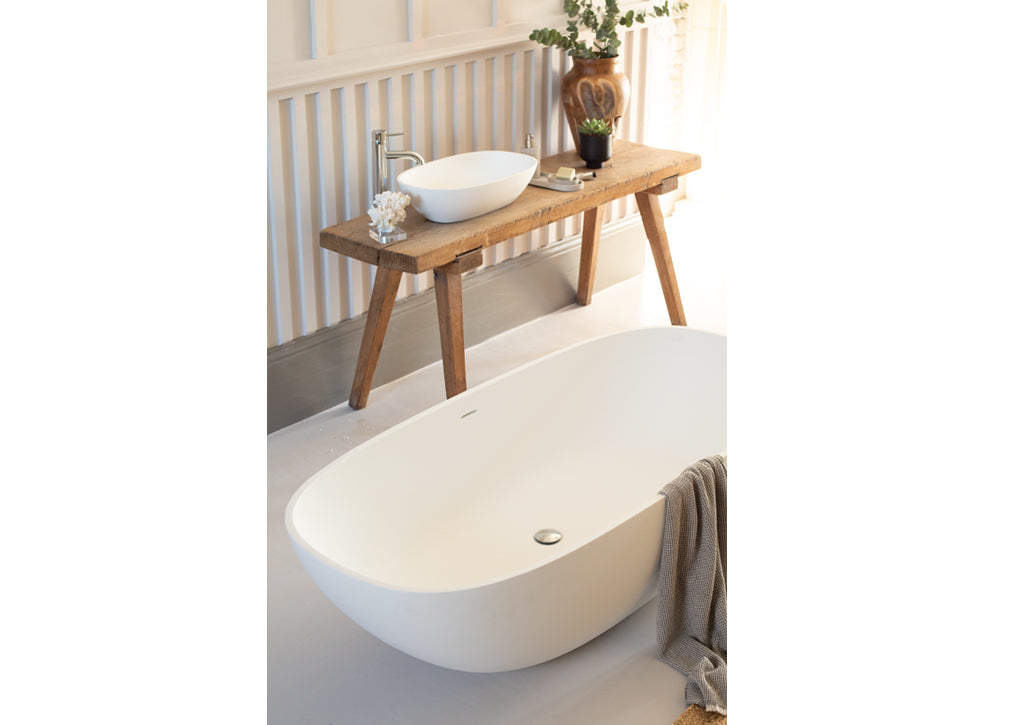 Dawn
Freestanding bath
Part of the Elements stone collection
Dawn; a time of new beginnings. Refresh your... more
Dawn; a time of new beginnings. Refresh yourself and prepare for the challenge of a new day or that special occasion.
A rectangular shaped bath with gently curved lines, combine to create an inviting, comfortable natural shape, providing a blissful bathing experience, guaranteed to help refresh your senses.
Accessorise

your bath...

Please see below a selection of products & accessories designed to complement & ensure a smooth, hassel free installation of your new Waters Bath.
---
Basins,

the perfect partner

Find your basins perfect partner from our stunning range of matt & gloss freestanding & counter top basins.
Personalise

with a dash of colour...

…to complement your bathroom design we can coat the outer surface of your bath & basin in a durable matt finish for an addition cost of £595. For info please consult your retailer…

Spec

all the facts...

All the information you'll ever need to plan your next bathroom with a stunning Waters bath centrepiece.
Matt DQ cast
Infinity matt white finish creates a high-end designer look in your bathroom, more info.
Important info:
All sizes given are approximate, manufacturing tolerance is +/- 5%. This bath can be installed on top of a finished floor - excluding waste pipe & filler supplies.
---
The material,

explained...

Gloss M+cast

M+ Cast is a unique stone material exclusive to Waters. more

M+ Cast is a unique stone material exclusive to Waters. [more info]

Manufactured using dolomite stone mixed with resins and polymers that is "gel" coated in a gloss white covering that will compliment other items in your bathroom.

As a stone material your bath will be extremely solid and will keep the water warmer for longer allowing you to enjoy a blissfully long, quiet bath

Thanks to quality materials and expert craftsmanship we provide a lifetime warranty for all our M cast baths. 

less

Matt DQ cast

DQ Cast is Waters's flagship exclusive stone material. more

DQ Cast is Waters's flagship exclusive stone material. [more info]

Manufactured using quartz stone mixed with resins and polymers to create a wonderful white material, that we cast and finely sand to a smooth "infinity matt white" finish that provides our elements baths with a wow factor like no other.
Other advantages of this material are its low weight and its ability to be refreshed   
As a stone material your bath will be extremely solid and will keep the water warmer for longer allowing you to enjoy a blissfully long, quiet bath.  
Thanks to quality materials and expert craftsmanship we provide a lifetime warranty for all our DQ cast baths. 

less
Fill,

this bath..

To fill this bath we recommend any of the

- Freestanding bath Tap,

- Ceiling filler

- Wall mounted bath spout